All About Eating the Korean BBQ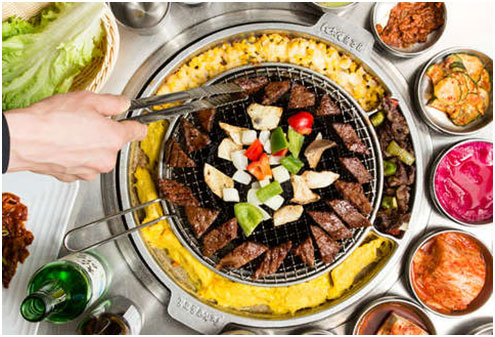 Korean food is considered very healthy because of many reasons and also good at the taste. So foodies are you ready to know about one of the healthiest food continents which are Korean food. In this article, we will tell you about Korean food like Korean BBQ and why they are considered so good in case of taste and health.
Characteristic of Korean food
Korean food is considered very healthy or healthier than food from other countries because they use very less oil and focuses on keeping their food tasty but avoiding unhealthy elements. There are a lot of things that are really right about this such as,
It is tasty, foodies you can never say that food tastes bad until you try it. These foods are so much tastier than you think. The Koreans have refined the art of making food and preserving it. They really know the deep things about cooking their food which makes their food taste great.
Food is healthy, there are a lot of veggies in your Korean food that is served as a main course. You have to eat it because they are really good for your health. Also the Korean use oil in a very less amount. The normal calorie intake in Korean food is less than 600 calories were eating a pizza means 1000 calories. Thus you can clearly see why their food is considered tasty.
Reason Behind Korean Food Being Healthy
There are many reasons why Korean food is healthier,
Soup, most of their food is not served without soup. This fulfilled your hunger without eating so many calories. Thus soup plays an important role in Korean food being healthy for you.
Lack of Oil, if you ask one major reason, this is the lack of oil uses in their food. They serve most of their foods with veggies and avoids using too much oil. This means you are eating healthy food every day if you are Korean.
Foods like kimchi, this is very healthy Korean food that contains so many vitamins and nutrients which clearly means the best food for health lovers. These types of foods keep the faith of people to believe that Korean food is really very healthy.
Deserts, snacks, and tea, the Koreans don't have so much as dessert. They consider watermelon and oranges as dessert which are healthy in their own way. They only drink green tea and there is no need to explain anything about why green tea is healthy because everyone knows why it's healthy.
Koreans prepare their food very carefully and healthy for everyone whether it is Koy Korean Boston or any other place in the world. If you would go on a Korean diet, you will definitely have the best experience with this food as the health benefits. Well, it is good for health-conscious people and also people who want to lose their weight. Thus if you want your diet to be healthy and tasty at the same time then it is a good idea to sift your diet or Korean food.
Testimonials
Korean Beef entree was okay. Nothing all too special. I feel like I could've gotten the marinade done myself. But I had some Drunken Noodles also and that was delicious.
Sylvia Dees
Service was good. Their Korean Style Chicken wings are double friend to crispy perfection. Fried oysters were juicy and were awsome
Theodore Ray
Edamame appetizer was quality; nice and warm and a little salty. Split three rolls: Spicy tuna, California Snow, and the Fiery Salmon Specialty Roll. The Fiery Salmon had a nice spicy kick due to some amazing habenero spicy mayo. YUM. Cool combination. The texture of the salmon on top was good as well.
Carol Thompson
My mother loves Japanese food and their menu seemed versatile enough for me, especially since I'm allergic to seafood and stuff. While she had green tea and a bowl of udon noodle soup, I settled for the aloe lemonade and the Korean BBQ beef dish which came with bok choy and rice. We also split the lettuce wraps as a starter. The food arrived promptly and the service was spot on.
Jeremy
All of the food we ordered was delicious! We ordered the wings which aren't Like your typical wings, these are crunchy. I ordered the Korean beef which was ok. My husband ordered the ramen which was really good and our niece ordered the teriyaki chicken which was also good. The service was attentive and prompt.
Kim Atkins
Korean Asian Kitchen Menu HighLights
Book A Table
Does not take Reservations..!