Everything You Need To Know About the Bibimbap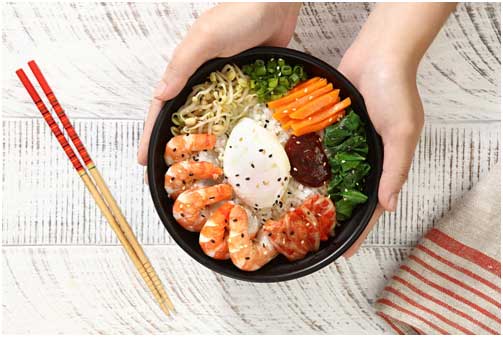 If you love Korean food and you don't know about this traditional food then you are missing the best Korean food in the world. It's one of the extremely customizable food worlds, in which you can add things according to your taste preferences. It has been in the society for centuries and still found easily in many restaurants like Korean Asian Kitchen Watertown.
Recipe Of This Delicious Food
This a very easy dish to make, you can easily cook this food, by following a simple recipe. For preparing this you need lots of veggies, veggies that are normally user in the preparation of this dish are cucumber, courgette, radish, mushrooms, Bellflower's route, spinach, soybean sprouts, and tofu. This meal includes rice, veggies, meat, sesame oil, and red pepper paste. Everything is together presented as a single dish, which you can now eat for your taste. The meal gives extraordinary nourishment to your health, something which Korean food is known for. Went you visit Korea you will find that whatever dish they make is healthy as they mostly use vegetables and cooks them to a limit where they still contain all the nutrients and They also use less oil.
Various Type Of This Food
This food comes in many patients but the four most popular variations of bibimbap are as follows,
Jeonju, this variation is one of the signature dishes, this variation is so much popular in Korea and also in the whole world. The special thing about this variation is that the rice of this variation is cooked in the broth of the beef leg for flavouring the rice.
Hot stone pot, this variation is served in a stone pot that contains a cooked raw egg in the sides of the bowl. The eggs and other ingredients are just added before consumption.
Yakcho, this variant contains medical herbs which make it even their food to eat.
Hoedeopbab is the variant that contains see food thus like an octopus, salesman or tuna. This is one of the tastiest variants.
There is a lot of food that is available in this one single food. This is traditional and always had a place in the society which makes it a very good choice as a food.
Where You Can Eat This
This is easily found in the societies of Korean culture; you can visit Korea and try this or you can visit a Korean restaurant that serves this. There is so much that you need in your food which is why it worth eating. It has so much nutritional value which is good for your health thus you have to find it and give it a try. If you are a foodie then I believe nothing can stop you from trying this once. You can also check the Korean Asian kitchen restaurant for this type of food, they normally serve all kinds of tasty Korean food so you will find this one also there.
Testimonials
Korean Beef entree was okay. Nothing all too special. I feel like I could've gotten the marinade done myself. But I had some Drunken Noodles also and that was delicious.
Sylvia Dees
Service was good. Their Korean Style Chicken wings are double friend to crispy perfection. Fried oysters were juicy and were awsome
Theodore Ray
Edamame appetizer was quality; nice and warm and a little salty. Split three rolls: Spicy tuna, California Snow, and the Fiery Salmon Specialty Roll. The Fiery Salmon had a nice spicy kick due to some amazing habenero spicy mayo. YUM. Cool combination. The texture of the salmon on top was good as well.
Carol Thompson
My mother loves Japanese food and their menu seemed versatile enough for me, especially since I'm allergic to seafood and stuff. While she had green tea and a bowl of udon noodle soup, I settled for the aloe lemonade and the Korean BBQ beef dish which came with bok choy and rice. We also split the lettuce wraps as a starter. The food arrived promptly and the service was spot on.
Jeremy
All of the food we ordered was delicious! We ordered the wings which aren't Like your typical wings, these are crunchy. I ordered the Korean beef which was ok. My husband ordered the ramen which was really good and our niece ordered the teriyaki chicken which was also good. The service was attentive and prompt.
Kim Atkins
Korean Asian Kitchen Menu HighLights
Book A Table
Does not take Reservations..!