Why People Of Roxbury Choose Korean Food?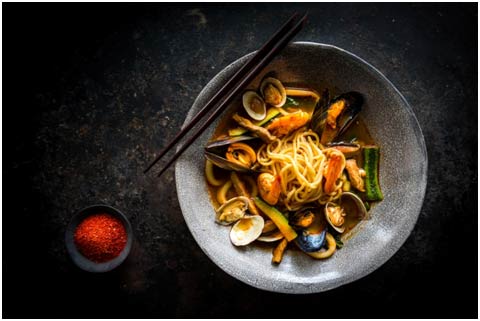 Roxbury is one of the known places in Boston, Massachusetts. It is a dissolved municipality and the foods of this place are incredible. Boston is the city located in Massachusetts capital and it is the largest city that was founded in 1630 and is one of the oldest cities in the United Kingdom. When it comes to food people love to try all sorts of foods whether Italian or Korean. As a treat, they prefer to get Korean foods over others for which the Korean Asian kitchen Roxbury is also in competition. Korean foods like Bulgogi, Japchae are famous and are rare at places. But with time Korean foods are also creeping in the society of Boston and for this food Korean Asian Kitchens are always preferred.
Highlights of Koreans foods
There are certain highlights of Korean foods for which people of Roxbury and other parts of Boston are fond of that.
It is a blend of traditional and western foods. Korean foods are generally referred to like the flavors of multiple cuisines that are found in those dishes.
Kimbap Rolls are one of the items in the menu card of Korean foods that are found in Korean Asian Kitchen but the other foods are also next level foods.
Their environment is quite and their cuisines are having a complete Korean touch with the compliment of other dishes and flavors. They use the experience of people like chefs and the service is also remarkable.
The place is mainly famous for its sauces and the combinations they love to use with them.
The surprise of this place is they change their lunch and dinner menu regularly that attracts the customers for something new. They never send their customers back disappointed.
The rates of the foods are also affordable and they serve the best dishes which are not in competition in the whole of Boston.
The rates of Korean Asian Kitchen are very high in Roxbury and the place can be chosen for any occasion such as date, wedding foods, quick dinners, etc.
The selection of wines is very good and their energetic atmosphere is attractive. They know the perfect drinks that can be served with the dishes which mesmerize the customers.
The providers should have a good friendly environment along with the online delivery service at the doorstep.
The menu is different from all the other styles of foods such as Indian, Italian, etc. the dishes are also not similar to other dishes.
In Boston, people prefer to get the best places when food is concerned. In recent years Korean food is always preferred by people. They choose Korean Asian Kitchen Roxbury for such. The kitchens in Boston are very competitive and they keep their rates at par. Their services are great and every restaurant has a uniqueness in them that separates them from others. The kitchens in Roxbury know well to attract the customers by changing their strategies regularly and they make sure that the demand for Italian foods is always at its peak.
Testimonials
Korean Beef entree was okay. Nothing all too special. I feel like I could've gotten the marinade done myself. But I had some Drunken Noodles also and that was delicious.
Sylvia Dees
Service was good. Their Korean Style Chicken wings are double friend to crispy perfection. Fried oysters were juicy and were awsome
Theodore Ray
Edamame appetizer was quality; nice and warm and a little salty. Split three rolls: Spicy tuna, California Snow, and the Fiery Salmon Specialty Roll. The Fiery Salmon had a nice spicy kick due to some amazing habenero spicy mayo. YUM. Cool combination. The texture of the salmon on top was good as well.
Carol Thompson
My mother loves Japanese food and their menu seemed versatile enough for me, especially since I'm allergic to seafood and stuff. While she had green tea and a bowl of udon noodle soup, I settled for the aloe lemonade and the Korean BBQ beef dish which came with bok choy and rice. We also split the lettuce wraps as a starter. The food arrived promptly and the service was spot on.
Jeremy
All of the food we ordered was delicious! We ordered the wings which aren't Like your typical wings, these are crunchy. I ordered the Korean beef which was ok. My husband ordered the ramen which was really good and our niece ordered the teriyaki chicken which was also good. The service was attentive and prompt.
Kim Atkins
Korean Asian Kitchen Menu HighLights
Book A Table
Does not take Reservations..!