What are the Famous Japanese and Korean Dishes?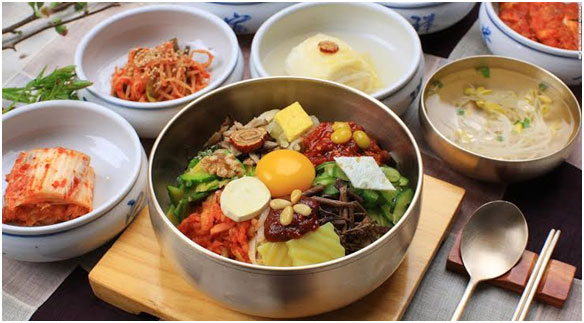 Japanese and Korean food is delicious and mouth-watering. They are famous for their taste and aroma in every part of the world. People from every part of the world consume Japanese food and love it. Have you ever tried Japanese food? If not you should try them right now. They are really unique and special. Japanese foods are delicious and easy to cook. Moreover, they are healthy as well. Whenever we think about Japanese food we simply think about Sushi or Ramen but beyond these two there are dozens of tasty and delicious Japanese food that we should try. They country Japan has amazing variety of cuisines that are mouth-watering. This article will provide you a more elaborated view of Japanese dishes that is admired by everyone. No matter where you live, whether you live in Pakistan, Kazakhstan, US, UK, India, or any other Asian countries you can have Japanese food. There are many restaurants built worldwide that serves Japanese food. You can have a variety of Japanese food in Framinghamor any other city of your choice. Enlisted below are the top 5 Japanese food that you can try. Korean Asian Kitchen in Cambridge also serves these delicacies.
Sushi: Sushi is a very popular Japanese food served worldwide. It consists of a piece of rice seasoned with rice vinegar mix. The main ingredients present in this dish are fish, vegetables, and seaweed. Sushi is of various types such as Nilgiri Sushi, Maki Sushi, Tamaki Sushi, Oshi Sushi, etc.
Ramen: Another very popular dish of Japan is Ramen. It includes a white noodles bowl served in Miso soup or Soy sauce, with different ingredients. The most common toppings include slice of pork, egg, and green onion. The most delicious part of this dish is its soup. Once you eat it you are definitely going to love it because the flavour is very different and different than anything you have tasted before.
Tempura: Tempura is a popular snack in Japan and consists of seafood and vegetables which are battered and deep fried. It is seasoned with a sauce consisting soya sauce, ginger, and garlic. It is generally served with Tetsyu sauce which is a mixture of ginger, radish, consommé, sweet cake, and soy sauce. Tempura is actually a Portuguese dish which later became famous in Japan.
Okonomiyaki: It is a very popular dish of ingredient whose name means 'grilled as you like it'. You can add anything in it according to your choice. The main ingredients present in this dish are onion, shrimp, beef, vegetables, squid, cheese, and mochi. Its preparation takes time. You can tell the staff what extra items you want in your dish.
Miso soup: Miso soup is a side dish of Japan which is really tasty. It is cooked using soy, hondashi, tofu, chives and other ingredients. This dish has a unique aroma which makes it delicious. It is a popular side dish and you can find it in any restaurant you go.
Well, that's it. Japanese foods are delicious. You can find them in any Asian restaurant. They are available in other non Asian countries as well. Korean Asian Kitchen also delivers the tasty food.
Testimonials
Korean Beef entree was okay. Nothing all too special. I feel like I could've gotten the marinade done myself. But I had some Drunken Noodles also and that was delicious.
Sylvia Dees
Service was good. Their Korean Style Chicken wings are double friend to crispy perfection. Fried oysters were juicy and were awsome
Theodore Ray
Edamame appetizer was quality; nice and warm and a little salty. Split three rolls: Spicy tuna, California Snow, and the Fiery Salmon Specialty Roll. The Fiery Salmon had a nice spicy kick due to some amazing habenero spicy mayo. YUM. Cool combination. The texture of the salmon on top was good as well.
Carol Thompson
My mother loves Japanese food and their menu seemed versatile enough for me, especially since I'm allergic to seafood and stuff. While she had green tea and a bowl of udon noodle soup, I settled for the aloe lemonade and the Korean BBQ beef dish which came with bok choy and rice. We also split the lettuce wraps as a starter. The food arrived promptly and the service was spot on.
Jeremy
All of the food we ordered was delicious! We ordered the wings which aren't Like your typical wings, these are crunchy. I ordered the Korean beef which was ok. My husband ordered the ramen which was really good and our niece ordered the teriyaki chicken which was also good. The service was attentive and prompt.
Kim Atkins
Korean Asian Kitchen Menu HighLights
Book A Table
Does not take Reservations..!