Want to Try Bibimbap - Korean Garden in Boston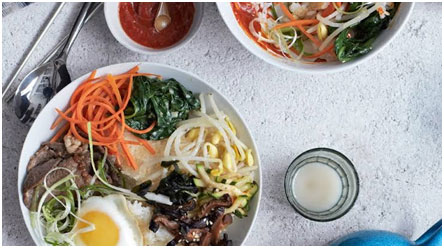 Korean dishes are considered to be one of the favorite dishes if you have ever visited Korea or if you know about the flavors which are used in Korean dishes. But to get the same flavor other than Korea is a difficult task to do. But now the time has been changed, and in Boston Korean Garden is available. Yes, you read it right now in the Korean Garden in Boston is available, which is right there to serve you with the best Korean dishes at a reasonable price.
There is no need for you to visit Korea anymore to test the Korean dishes and feel disappointed that you are not able to taste the dash anymore. In all the Korean dishes, bibimbap is considered to be one of the most favorite and considered dishes. The reason behind considering bibimbap is one of the favorite because this is prepared with rice along with some other ingredient. This is a mixture that is served to you on a plate.
If all the flavors are present in it in appropriate amount, then you will be able to get the best test, but in case any of the ingredients is missing, then you will feel disappointed for no reason. Therefore to avoid the disappointment of your Korean Garden in Boston is right there to help you with it. They are available with all the Korean dishes along with bibimbap. There is no need for you to worry anymore about anything.
The main purpose with which this particular restaurant is serving you is to provide their customers with quality and quantity. They do not compromise with anything when it comes to customer satisfaction. Moreover, also, they are among those who are not only providing the restaurant facility but also providing the home delivery facility. This is totally your choice whether you want to avail of the home delivery facility or whether you are ready to visit the restaurant. Both the facilities are reliable and friendly as well.
Also if you are planning any party then also they are there to serve you with catering services. Their catering services are so good that your guests will not gossip about your party and also they will appreciate your choice of food you have placed at the party. What else you want when you have thrown a party, and the people present at the party are appreciating your efforts and also appreciating the food present. This is the only way that will let you feel delighted for a moment. If you also want to have the same feeling, then Korean Garden in Boston is the best price for you to avail of the services.
Hurry up, place your order now so that you will be able to get the best food, and also, you will be able to serve your guest with the best dishes. In case you want to customize any of the food, then also you can let them know about it. The restaurant people will customize the food according to the requirement of the customer, and they will provide you as you want.
Testimonials
Korean Beef entree was okay. Nothing all too special. I feel like I could've gotten the marinade done myself. But I had some Drunken Noodles also and that was delicious.
Sylvia Dees
Service was good. Their Korean Style Chicken wings are double friend to crispy perfection. Fried oysters were juicy and were awsome
Theodore Ray
Edamame appetizer was quality; nice and warm and a little salty. Split three rolls: Spicy tuna, California Snow, and the Fiery Salmon Specialty Roll. The Fiery Salmon had a nice spicy kick due to some amazing habenero spicy mayo. YUM. Cool combination. The texture of the salmon on top was good as well.
Carol Thompson
My mother loves Japanese food and their menu seemed versatile enough for me, especially since I'm allergic to seafood and stuff. While she had green tea and a bowl of udon noodle soup, I settled for the aloe lemonade and the Korean BBQ beef dish which came with bok choy and rice. We also split the lettuce wraps as a starter. The food arrived promptly and the service was spot on.
Jeremy
All of the food we ordered was delicious! We ordered the wings which aren't Like your typical wings, these are crunchy. I ordered the Korean beef which was ok. My husband ordered the ramen which was really good and our niece ordered the teriyaki chicken which was also good. The service was attentive and prompt.
Kim Atkins
Korean Asian Kitchen Menu HighLights
Book A Table
Does not take Reservations..!