Korean BBQ and Bibimbap: Heart and Soul of Korean Cuisine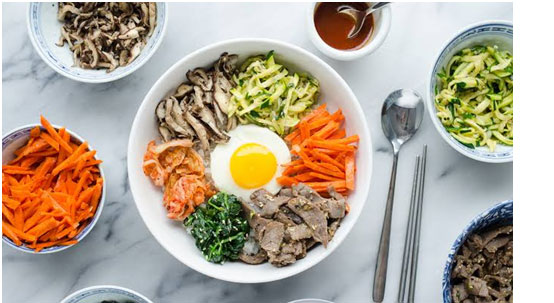 Korean food is full of varieties, and there is nothing that is missing in this food. Multiple dishes are known to be the heart and soul of Korean cuisine. But in reality, Korean BBQ and Bibimbap are known to be the best ones.
Bibimbap is among those Korean dishes, which is basically a rice dish. As the name suggests, it is a combination of multiple ingredients. This is basically served in a bowl along with warm white rice, which is further topped with some soya sauce, kimchi, and other ingredients. If you are among those who love Korean food and you haven't tried Bibimbap, then you must visit your nearby restaurant and try it now. You will surely go to have the best test available right in front of you, which will not only water your mouth but will also let you Crave for more.
Likewise, Korean BBQ is also among one of the favorite Korean dishes. This is basically referred to as the method of grilling meat, which typically includes beef, pork, and chicken. These dishes can be prepared on gas or on charcoal grills rest; it depends upon the cooking method the chef is adapting.
But the restaurant you are approaching to try Korean BBQ must be providing you with fresh ones and properly cooked ones. If the meat is not properly cooked, then it will taste like a raw one, and it will let your mouth smell bad as well. If you are not sure where you can look forward to the restaurant for Korean food, then you must take help from online portals and search for the one.
Within no time, you will have results available in front of you, and you will be able to come in contact with the restaurant. To resolve all your problems, some of the restaurants are there, offering you a home delivery facility. Yes, you read it right. Now there is no need for you to step outside and visit places unnecessarily. You need to find out the best restaurant, and you will be able to place your order easily.
While you are placing your order, make sure you are mentioning your requirements appropriately. This will look at the restaurant people to understand your requirements, and we customize the food as per the order you have placed. To place your order is not necessary that you are supposed to visit the online portal only. If you want, you can place your order by calling them as well. But make sure you are mentioning your address clearly. This will let the delivery person reach your place on time, and it will not create for more problems for him to reach your place easily.
In case the foods are to you are not satisfied with it, then feel free to report about it immediately to the restaurant. They will look to it and provide the solution for the same. Hurry up, avail the service now so that you will be able to get the best food as you have placed the order.
Testimonials
Korean Beef entree was okay. Nothing all too special. I feel like I could've gotten the marinade done myself. But I had some Drunken Noodles also and that was delicious.
Sylvia Dees
Service was good. Their Korean Style Chicken wings are double friend to crispy perfection. Fried oysters were juicy and were awsome
Theodore Ray
Edamame appetizer was quality; nice and warm and a little salty. Split three rolls: Spicy tuna, California Snow, and the Fiery Salmon Specialty Roll. The Fiery Salmon had a nice spicy kick due to some amazing habenero spicy mayo. YUM. Cool combination. The texture of the salmon on top was good as well.
Carol Thompson
My mother loves Japanese food and their menu seemed versatile enough for me, especially since I'm allergic to seafood and stuff. While she had green tea and a bowl of udon noodle soup, I settled for the aloe lemonade and the Korean BBQ beef dish which came with bok choy and rice. We also split the lettuce wraps as a starter. The food arrived promptly and the service was spot on.
Jeremy
All of the food we ordered was delicious! We ordered the wings which aren't Like your typical wings, these are crunchy. I ordered the Korean beef which was ok. My husband ordered the ramen which was really good and our niece ordered the teriyaki chicken which was also good. The service was attentive and prompt.
Kim Atkins
Korean Asian Kitchen Menu HighLights
Book A Table
Does not take Reservations..!